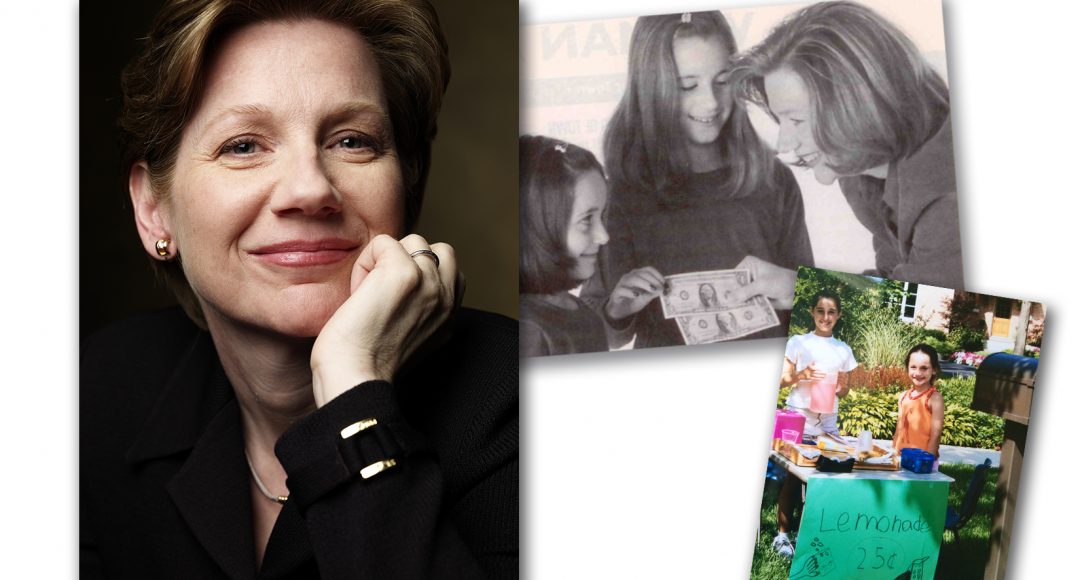 Hello. I am Susan Beacham and welcome to my blog. So, who am I and why should you take time out of your busy day to read my posts?
I teach parents, grandparents and educators how to teach kids about money and I have been at this a long time. In fact, I left the corporate world after 18+ years working as a financial professional to walk into a first grade classroom and teach kids about money because my adult clients knew so little about money. I did not want the same outcome for my girls, who were in first grade and pre-school at the time I made this decision. I saw both in my girls and other young children a bold willingness to learn about everything even about money. This was so unlike the adults I worked with who were almost afraid to let anyone know what they did not know about money and so they would suffer in silence.
Children, as many of us who have children know, never suffer in silence ever! They are willing to take risks and learn about money. So, I traded in my high heels for a pair of high tops and started teaching kids about the choices they have for money. Almost nine years and thousands of students later, I have taken on the new title of financial literacy professional. However, like many of you, I am also a parent (the girls are now ages 16 and 14) and so I have all the same challenges you do in getting basic money education incorporated into my children's lives. As I provide advice or recommended tools to teach your child about money, I keep the complex role of parent front and center.
Money management is not an exact science because money and emotion are so closely tied. The emotion of money can and will trip us up. Often, we avoid tending to our children's financial education because we've neglected our own financial education. As parents, we are afraid of what we don't know about money. Don't worry; we can afford to make mistakes in our teaching. We just can't afford to put it off.
I'm here, with this blog, to share with you what I have learned about how to teach our children about money. My goal is to make it easy enough that we can do it consistently enough to make a difference in our child's life. So once a week I will share with you my short list of things we can do to introduce our children to money.
As part of this process I want to hear from you. I encourage your comments. Don't be bashful. Parents will talk to their children about safe sex, the dangers of drugs and alcohol, but they won't teach them how to handle money. What is that about? It's time to starting talking about money!
The #1 topic I get the most questions about is ALLOWANCE. Don't groan. There is a right and a wrong way to approach this wonderful teaching tool and I am going to take you through it. But before I dive into this rich subject, which will take a number of posts, let's have a little fun and let me tell you about the…
TOP 10 SIGNS THAT IT'S TIME TO TALK TO YOUR KIDS ABOUT MONEY
10. When your son explains with pride how he just signed up for a new cell phone deal: Unlimited monthly minutes for an unlimited monthly fee.
9. When your kids roll their eyes every time you say money doesn't grow on trees!
8. When you walk into a store with your daughter to buy shampoo and walk out with a must have or will die Usher CD, a new set of Girls Rock bedding and NO SHAMPOO!
7. When your daughter offers to lend you money from her babysitting stash.
6. When your son takes a pass on your homemade meatloaf dinner and offers to treat everyone to pizza and coke with his new debit card.
5. When your son announces his plans to use his credit card once he runs out of money on his debit card.
4. When your child texts her friends for advice on how to pay off her costly text messaging bill.
3. When your son tells you all he wants for Christmas is money for gambling.
2. When you overhear your daughter telling her friends that it was just her luck that she got stuck with the poor dad.
1. When your child announces that he made $10 million in the stock market simulation game at school and that he's ready to manage your retirement portfolio.