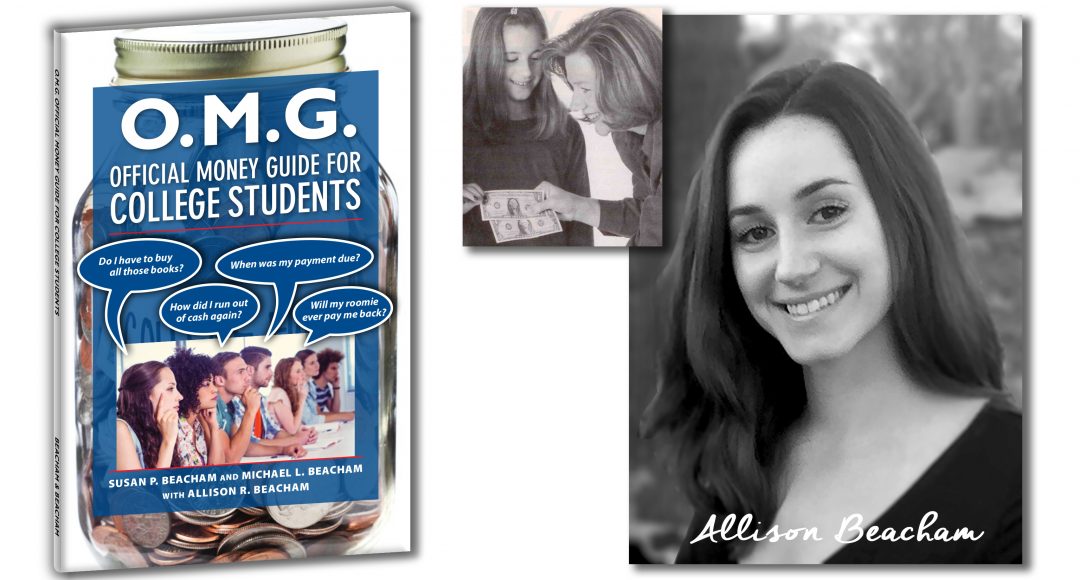 Our new book, O.M.G. Official Money Guide for College Students[msgen.com], has been released just in time for students and parents to get a financial "heads-up" about what they are about to face as these young adults head off to college.
Allison, our oldest daughter, is a co-author on this book. She was a member of the very first 1st grade class we taught about money way back in 1999. She is now 25, two years out of college, and off to a great start with two years invested to the max in her 401(k) at work!
As we were writing this book, it quickly became a "family affair" when Allison approached us with the idea that she could make the book relatable to college students. She wanted the book to be something she herself could see catching her eye in the college bookstore. We liked the idea.

We have always relied on parents to make sure our book got into the right hands at the right time. But she was right – at college age we need to bring our advice straight to the end-user – the kids themselves.
Her millennial touch can be found throughout the book with "Major and Messy" Money Moments segments, initiated by her own college experiences, and with the "Instagram" look of all the pics!
Here's what columnist Michelle Singletary of The Washington Post said this about the book: "Millennials are being trained to consume information in the amount of time it takes to heat pizza in a microwave. "O.M.G. Official Money Guide for College Students" is an engaging way to communicate important financial information in micro-time that hopefully will lead to a lot of longer conversations. I know talking about money can cause mental paralysis. But this book takes major money topics and downsizes them into digestible pieces of information."
PLEASE JOIN US FOR A LIVE CHAT!
Michelle Singletary (Color of Money Columnist) will be hosting a live chat with both Allison and me about our new book at Noon Eastern time on Nov. 3 at washingtonpost.com/discussions. We will take your questions about managing money as a college student. Parents: Send in your money questions now to The Washington Post.  Then text, tweet or Snapchat your kids and invite them to join you online for the chat. I'd love to see families participating together.