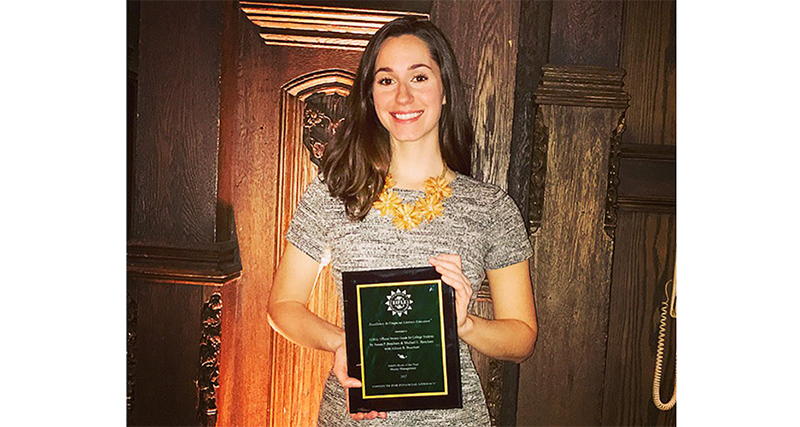 Last week, our co-author and daughter, Allison Beacham, accepted the EIFLE "Adult Money Book of the Year" award for our book, O.M.G. Official Money Guide For College Students.  Both Michael and I could not attend. But through the miracle of FaceTime, we were able to watch her deliver the following comments.  Needless to say, we are pretty proud.
Allison Beacham's Acceptance Speech – EIFLE Awards Dinner 2017:
I'd like to thank The Institute for Financial Literacy and, of course, the EIFLE judges for this honor.  Winning the "Adult Money Book of the Year" award with our book, O.M.G. Official Money Guide for College Students, says that we hit the mark when targeting our audience.
This book isn't for "freshmen" or "18 year olds." It's for the young adults who – for the first time in their life – have to make smart and savvy every day decisions with their money on their own.
When my parents founded Money Savvy Generation, it was their dream to reach and teach the youngest of children about the choices they had for money, how to set goals for those choices and ultimately, as my mother has said many, many times, to teach those children the critical life-skill of delayed gratification.
I was one of my mom's first students, in first grade, when she began to teach kids about money.  As we grew, my parents found that they needed to continue to craft the educational money message to align with their maturing audience.  This past year, when they were ready to tackle the college audience, they asked me to help. 
What I wanted this book to have that was different from any other book I'd received in college were two things: First, of course, I wanted that "Wow!" factor that would make me want to pick this book up out of the ocean of textbooks in the book store. I wanted our book not to look like mandatory reading, but rather as a go-to guide for when things get real.  This needed to be a guide to use when mom and dad aren't picking up the phone – or maybe just can't "understand".  And that was the second thing I wanted this book to focus on – real life scenarios: You and your roommate accidentally bring two microwaves into a 529 square foot dorm room – it happens! Debit cards get stolen. Student loans are REAL. And credit? It's not just for cash back gift cards, it's for your future. This was the stuff I saw all around me in school – and I knew I'd have wanted a guide to go to for help in situations like these.
My parents are money experts, and I'm working to become one. But it's been awhile since they've registered for college classes. So, this collaboration played to our strengths, and in return earned us the opportunity to benefit young adults everywhere – but most importantly, in the real world. 
The mission of reaching and teaching kids about money has changed over the 17 years that my parents have been working to create a Money Savvy Generation.  Our audience now spans Pre-K through college.  So as these students get older and are exposed to Money Savvy Generation's books, curriculum and educational tools, they should become wiser as well. 
Again, please accept my thanks and the thanks of my co-authors, my mom and dad, Susan and Michael Beacham for this prestigious award and honor.  We appreciate you and your good works as we all strive to improve financial literacy and financial capability.