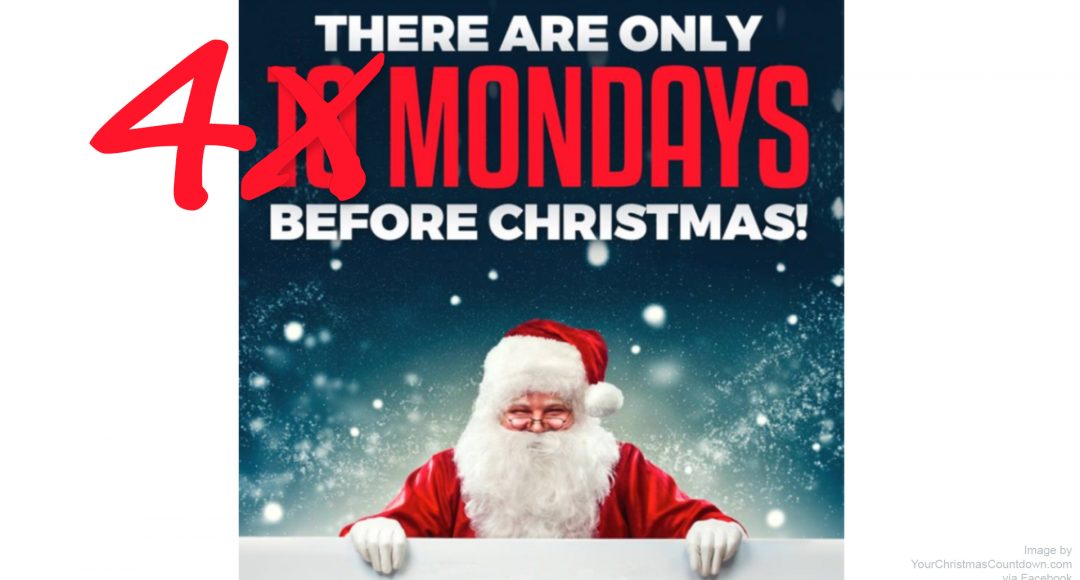 The holidays are almost here and the festivities have already started (including Black Friday promotions) even before the turkey is on the table.  With only 4 Mondays to go, here's my next tip of 10 to help control spending this holiday season, regardless of the holiday you observe.
Holiday Planning Tip of the Week: Monday #6 – November 20 – November 26. . . Check the List Again
Tough week.  Thanksgiving prep takes up a whole bunch of time. BUT, it could also be a great time to have some conversations with those on our list about what they really want or need this holiday season.  You may find out around the Thanksgiving table that Dad needs help figuring out his new phone.  So make a gift of lunch and a phone training session.  I will never forget the dinner we had with several of my husband's cousins where my twenty-something daughter took each of their phones and made the font on their texts bigger! OMG.  Nothing was a better gift for them.  So, talk about it and find out more about how to put the "gift" into the "gift".
A word about Black Friday "deals".
Unless it is on your list, forget about it.  Richard Thaler, the University of Chicago Nobel prize winner for Economics this year tells us that we cannot resist a sale.  He tells us – and he studies this a lot – people you did hear me say "Nobel prize winner", right? – that we will buy something even if we do not need or really want it, if that discount is deep enough.
So, make Black Friday your friend.  Only go out into the mass chaos if there is something you are truly wanting to get at a very special price because IT IS ON YOUR LIST! And, most importantly, if it eludes you, do not try to make up and buy something else to fill that void you are feeling.  Go home and eat leftovers.  It's the one time of year leftovers are really good.
I wish you and your family a very Happy Thanksgiving! 
Here are links to each of the previous tips, if you missed them:
Holiday Planning Tip of the Week #1 – Budget